Hyper Ultra Astronautics 1.1.0 released
First update to Hyper Ultra Astronautics after the release is here and it's more than just a maintenance update. It does fix a bunch of bugs, but it also adds two completely new game modes.
The new game modes are scorematch and its team based variant. Individual players or teams compete with each other and try to reach set target score first. In addition to taking out enemy drones for points, killing a competing player will drop part of the player's or team's score for others to fight over. As the match nears its end and everybody has collected more points, it gets more and more profitable to kill competing players instead of enemy drones. This makes the gameplay change over the duration of the match.
The mobile controller app has been updated too. It now uses vibration to give feedback when player's ship takes damage. Together with this game update, game discovery in the app will now work in many WiFi networks where it was previously unable to find the game. It still won't work in the most locked down networks, but this change improves overall compatibility.
Here are the changes since version 1.0.0:
Added scorematch and team scorematch competitive game modes.
Changed controller guide gamepad color to match the actual color of the first gamepad player.
Fixed power-ups spawning indefinitely when setting their amount to "none".
Fixed initial asteroids spawning at overlapping positions at match start.
Added secondary multicast group for remote controller discovery for better Wi-Fi compatibility.
Show a message stating the objective at match start up.
Upgraded Ogre3D and GLFW libraries to latest versions.
Updated SDL gamepad database to latest version.
Updated packages are available for download on Itch.io page and the official game page has been updated. The updated controller app is available on Google Play.
Hyper Ultra Astronautics 1.0.0 released
Hyper Ultra Astronautics is now officially ready and version 1.0.0 is available for download in Itch.io!
It has been a long road, like with most of my games. The development started with a prototype in late 2015 and the game has been in open alpha/beta testing for three years. I can't say that I have actively worked on the project all that time, there have been a lot of pauses, both short and long. After all these years it feels good to finish another game project!
Here are the changes since 0.1.13 beta:
Added more tips shown at match start.
Hide keyboard and gamepad related match tips when those devices are not available.
Disable "Continue" option from main menu until player has started a match.
Prevent player spawning too close to power-ups to prevent accidental pickups.
Delay player respawning if no suitable spawn position is found.
This doesn't mean that the development stops here completely. I will still be fixing bugs and maybe even add some new features later on.
Updated packages are available for download on Itch.io page and the official game page has been updated.
Hyper Ultra Astronautics release date
Hyper Ultra Astronautics open beta is finally ending. The release date is September 18!
On that date, version 1.0.0 will be available on Itch.io for Linux and Windows. The suggested price will be 5 EUR/USD, but you are still free to pay whatever you think the game is worth.
I thought about releasing on Steam too, but at this point it doesn't seem worth it. Especially since Steam does not support any pay-what-you-want pricing. I will probably lose some potential players, because "it's not on Steam", but I can live with that.
The most important reason for delaying the release has been the lack of iOS version of the controller app. I had a plan to resolve this, but it does not seem to work out, so I will have to release the game without it. The app source code is available, so there's still hope someone eventually publishes it on iOS.
Building an arcade cabinet for Hyper Ultra Astronautics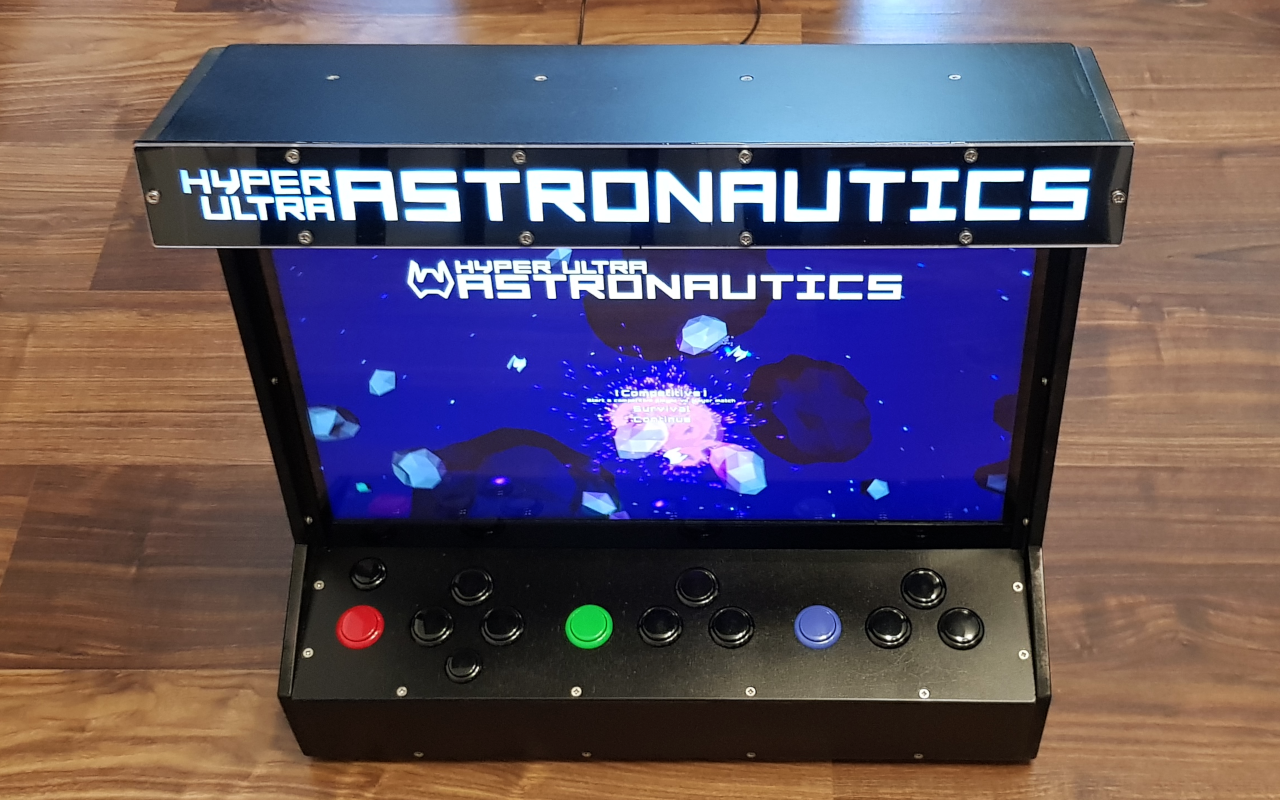 I have always wanted to build my own arcade cabinet and Hyper Ultra Astronautics was the perfect excuse to finally do it. I ended up designing and building a compact three player bar-top cabinet. Read the full post to see how.
Hyper Ultra Astronautics 0.1.3 beta released
The game is not dead! It's been embarrassingly long time since last beta update, mostly due to my general laziness and procrastination. I'm back on track to finishing the project.
Here's what has changed since 0.1.2 beta:
Recreated game icon with better quality.
Changed the in-game font again because the last one lacked many accented characters.
Re-show IP addresses listening for remote controllers with F5.
Fixed text messages at top and bottom of screen sometimes unintentionally fading out.
Properly reset camera state when exiting paused mode.
Added command line options for directly starting a match at startup.
Added menu toggling by ESC (again).
Use view with slowly rotating camera behind menus.
Updated to latest SDL game controller database.
Don't remember entered high-score name in demo mode.
Added support for event (damage, respawn, etc.) based actions in controller apps.
Updated bundled dependencies to latest versions (Ogre3D, OpenAL, GLFW, etc).
The Android controller application has been updated too. In addition to minor UI improvements, it adds visual effects and sounds on certain game events like respawning, missile locks and EMP disruption.
One of the side projects delaying the work on game itself is a bar-top arcade cabinet that I've been building for Hyper Ultra Astronautics. When it's finished I will write a post with more details here.
Updated packages are now available for download on Itch.io page and the official game page has been updated. The update to the controller application will be available shortly.