Polychoron 0.0.5 alpha released
This update doesn't bring any radical changes but a lot of fixes and improvements here and there. Perhaps the most noticeable change is the smoothed out difficulty spike on level 8 where the laser beam wielding sentry guns first appear. Also, the first non-score power-up has been added. More will come.
Here's what has changed since version 0.0.4:
Added anti-aliasing option in menu.
Added optional aim fine-tuning using gyroscope on mobile.
Added fire rate increasing power-up.
Do not bake data for global illumination when it's not used.
Added support for HTML5 version.
Fixes to issues when using GLES2 renderer.
Tweaked lighting with GLES2 renderer to compensate for lack of HDR and GI.
Adjusted HUD for better visibility on mobile.
Toggle HUD visibility with F5.
Show performance statistics with F3.
Require a name for high scores.
Fixed dimming HUD inside passive teleports.
Preload more materials to prevent stutter later on.
Show game score and time on level competion page.
Made mines detonate faster and cause more damage on higher levels.
Adjusted laser equipped sentry gun timing for much easier first encounter.
See Polychoron game page for more information. Direct downloads have been updated on Itch.io. Android version update has been uploaded on Google Play and will be available shortly.
The game play mechanics are pretty much all there and I'm not expecting any radical changes to visuals either, so I'm planning to focus more on audio for the next alpha version. Maybe I'll add a new power-up or two as well.
Polychoron web version available
Because Godot engine allows me to easily export the game to HTML5/WebGL, I did just that. You can now play the game here in your browser.
To make it work in wider range of browsers I had to use the GLES2 renderer which means it won't be able to use HDR, global illumination or dithering. I also had to disable some shader effects. Because of this, it looks significantly worse than the desktop and mobile versions using GLES3, even after adjusting the lighting to compensate for lack of HDR.
Gameplay-wise, it works surprisingly well. So far I have only noticed minor problems, mostly related to browser input focus and sometimes inconsistent mouse sensitivity.
While the web version is far from perfect, it's good to have this option for people to quicky try the game and as an option for otherwise unsupported platform like MacOS.
Polychoron 0.0.4 alpha released
A new Polychoron alpha version is here. This update makes big improvements to lighting. With the added dynamic lights, the game now looks more colorful and alive. I also redesigned the game logo and although it's still programmer art, it does look a lot better.
Here's what has changed since version 0.0.3:
New much better logo.
Added a lot more dynamic lights to projectiles, laser beams, etc.
Added full-screen and debanding dither toggles to settings menu.
Added level completion teleports that activate once all enemies are destroyed.
Remember full-screen and debanding dither settings.
Fixes to stuttering after changing global illumination setting.
Enabled font oversampling to get much sharper fonts on high resolutions.
Automatically open menu after a delay when player dies.
See game page for more information. Direct downloads have been updated on Itch.io. Please note that it will again take a while before the Android version update is available on Google Play.
Polychoron 0.0.3 alpha released
A new update to Polychoron is here along with some fresh gameplay video footage:
Click below to play the video.
Note
: This will load the embedded video from Youtube and will allow Google to collect data according to
their privacy policy
.
Here's what has changed since version 0.0.2:
Added sentry gun variant with laser beam (starting from level 8).
Added a full-screen dither shader to fix ugly banding on walls.
Replaced light flicker with shader based glitch effects when badly damaged.
Fixed sentry guns occasionally spawning in line of sight from player.
Added shader based damage flash effect that indicates damage direction.
Replaced spawn particle effects with flash to black on respawn.
Added controller/mobile vibration on damage and death.
Preload more resource to fix stutter on first shot and first explosion.
Open menu to pause game on focus loss only on mobile.
Removed mesh based muzzle flashes.
Added a bit more variation to wall textures.
Added guide icons to touch screen controls.
Increased touch screen control sensitivity when scaled down.
Added support for GLES2 renderer (see readme.txt).
Fixed projectiles moving backward while game is paused.
Changed to new fonts.
Fixed power-ups occasionally overlapping enemies.
Fixed high score disappearing due to forbidden characters in player name.
Fixed too many decimals on ship integrity in HUD.
Toggle full-screen mode with Alt-Enter too.
Play HUD sounds without the reverb filter.
I have set up a proper game page and the downloads are now hosted on Itch.io.
Polychoron 0.0.2 alpha released
As promised, the first Polychoron alpha version is here! And before anyone asks about the version number, yes, it's technically second alpha version. Just first one with this name.
I haven't set up any game pages yet, so here are direct links to files:
Polychoron 0.0.2 Windows/Linux
Check out readme.txt file included with the desktop version for documentation on controls. If you choose to play using gamepad, make sure it's a good one. Bad analog sticks (with hard-coded dead zones) on many cheap gamepads make precision aiming frustratingly hard.
Although the game has been developed primarily for desktop, I have put some effort into keeping the mobile version alive too. In practice it's the same exact game but with an experimental touch screen controller. Considering that I initially deemed the task of cramming six-degree-of-freedom controls on a touch screen impossible, I would call the current state usable.
I rarely play any mobile games because I hate touch screen controls for anything more complex than basic tap and swipe. However, I have seen other people enjoy even first person shooters on mobile, so perhaps someone could be play this game too.
After studying how some first person shooters handle input, I ended up splitting the screen into two parts. Right side is all for pitch and yaw using dragging and left side is for movement. The size of virtual joystick areas can be adjusted in the settings. Since I now had no place for primary shoot button I had to improvise. I tried the usual button inside the drag area but I found it too hard to use. What worked surprisingly well (at least in my opinion) is double-tap-and-hold gesture. Double tapping anywhere on the right side starts shooting and lets you aim freely until you lift your finger.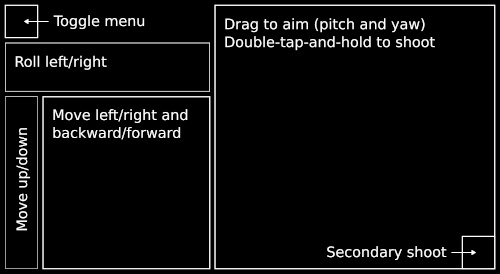 All feedback is welcome. In case of the Android version, I'm especially interested in hearing if you think the controls are (or could be) good enough. I need this feedback to decide whether to continue working on the Android version or not.