Building an arcade cabinet for Hyper Ultra Astronautics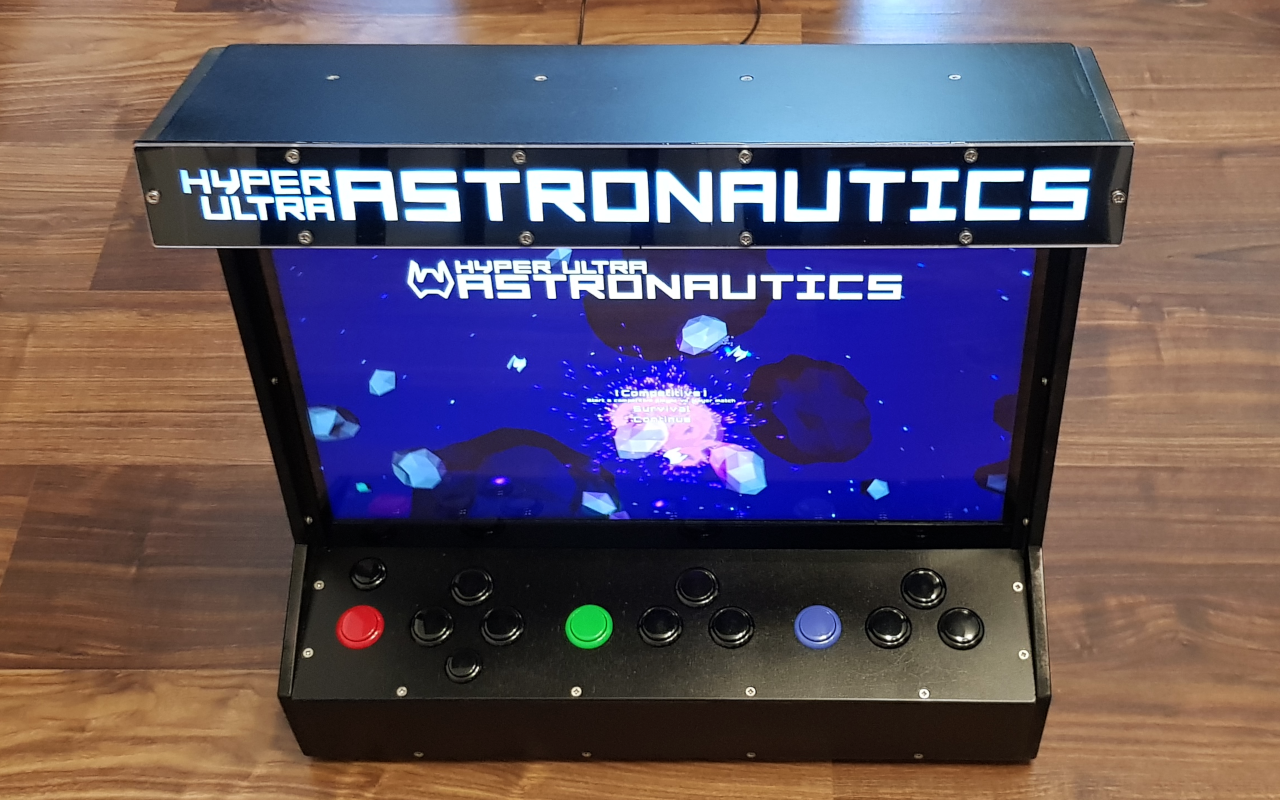 I have always wanted to build my own arcade cabinet and Hyper Ultra Astronautics was the perfect excuse to finally do it. I ended up designing and building a compact three player bar-top cabinet. Read the full post to see how.
Hyper Ultra Astronautics 0.1.3 beta released
The game is not dead! It's been embarrassingly long time since last beta update, mostly due to my general laziness and procrastination. I'm back on track to finishing the project.
Here's what has changed since 0.1.2 beta:
Recreated game icon with better quality.
Changed the in-game font again because the last one lacked many accented characters.
Re-show IP addresses listening for remote controllers with F5.
Fixed text messages at top and bottom of screen sometimes unintentionally fading out.
Properly reset camera state when exiting paused mode.
Added command line options for directly starting a match at startup.
Added menu toggling by ESC (again).
Use view with slowly rotating camera behind menus.
Updated to latest SDL game controller database.
Don't remember entered high-score name in demo mode.
Added support for event (damage, respawn, etc.) based actions in controller apps.
Updated bundled dependencies to latest versions (Ogre3D, OpenAL, GLFW, etc).
The Android controller application has been updated too. In addition to minor UI improvements, it adds visual effects and sounds on certain game events like respawning, missile locks and EMP disruption.
One of the side projects delaying the work on game itself is a bar-top arcade cabinet that I've been building for Hyper Ultra Astronautics. When it's finished I will write a post with more details here.
Updated packages are now available for download on Itch.io page and the official game page has been updated. The update to the controller application will be available shortly.
Hyper Ultra Astronautics 0.1.2 beta released
This is just a quick bug fix release. Here's what has changed since 0.1.1 beta:
Fixed Windows version not starting when launched outside game's directory.
Completely reworked Winnitron arcade mode launch logic.
Updated packages are available for download on Itch.io page and the official game page has been updated.
Hyper Ultra Astronautics 0.1.1 beta released
I had decided not to add any new weapons during beta phase, but I did it anyway. Meet smartgun:
It's a similar to the magnetic cannon, but with lower rate of fire and projectiles that steer away from friendly ships and towards enemies.
One problem with the mobile controller apps have been that they do not work in all Wi-Fi setups. Many (especially public) Wi-Fi networks seem to block UDP multicast which prevents the app from finding any games. I haven't been able to fix this so that it would work everywhere, so I've added manual connection as a backup. Now the game shows the listening IP address when a match starts. Updated mobile controller apps allows you to manually enter this address for cases where game listing does not show any games.
This update also adds a "Winnitron compatibility mode". This mode allows Hyper Ultra Astronautics to run in Winnitron arcade cabinets. I will later upload the game to Winnitron network.
Here's full list of change since 0.1.0 beta:
Added new weapon: Smartgun.
Fixed fast moving teletorpedos occasionally colliding and exploding prematurely.
Fixed teletorpedos becoming indestructible after their teleportation time runs out.
Added "resume" option in main menu and removed menu toggling with ESC.
Added command line option to force full-screen mode with current desktop resolution.
Documented all command line options in readme.txt.
Removed "slide prevention" setting from menu.
Added launch script for Winnitron arcade machines.
Moved controller app QR codes from settings menu to controller help overlay.
Increased weapon flash light ranges on most of the weapons.
Fixed bug causing wrong weapon flash color on some weapons.
Changed to a more low-poly style bullet shapes.
Added create-menu-shortcut.sh/vbs scripts for setting up menu shortcuts.
Increased arena light intensities slightly.
Show listening IP address for remote controllers at match start.
Updated packages are available for download on Itch.io page and the official game page has been updated. Mobile controller application update is waiting for approval on GooglePlay.
Lockdown Protocol 1.4.3 Released
This is a maintenance update to Lockdown Protocol, the first one in 2.5 years! I didn't realize it's been that long.
The most important reason for this update was that the Linux version is no longer working out-of-the box in many of the modern distributions due to removal of required old libpng library version. Also, a lot of bug fixes and improvements have been made to my "engine code" over the years while developing Hyper Ultra Astronautics.
I decided to drop the built-in level sharing mechanism, because it was a maintenance nightmare and due to the fact that during last three years it has been used only three times in total.
I will no longer build a 32-bit Linux version, because practically no-one downloads that anymore.
Here's the full list of changes:
Dropped Direct3D support (was never used by default anyway).
Fixed some compatibility issues on Linux (no more libpng dependency).
Added monitor selection in system menu.
Added monitor gamma adjustment in system menu.
Added V-sync interval setting to system menu.
Prevented "Automatic lockdown.." voice announcement from playing in editor preview mode.
Rewrote collision sound volume calculation.
Fixed random crashes at exit.
Added itch.io manifest files and cleaned up remaining references to Desura.
Switched to use SDL2 game controller mappings for much better gamepad support.
Fixed crash when starting level editor repeatedly.
Removed level upload/download support.
There has been a lot of code changes, so I would be surprised if there are no new bugs. If you encounter any problems, please report them and I'll sort them out.
Updated packages are available for download on Itch.io page and the official game page has been updated.