Polychoron 0.0.10 alpha released
The next alpha update to Polychoron is here! This might just be the last alpha version before beta phase.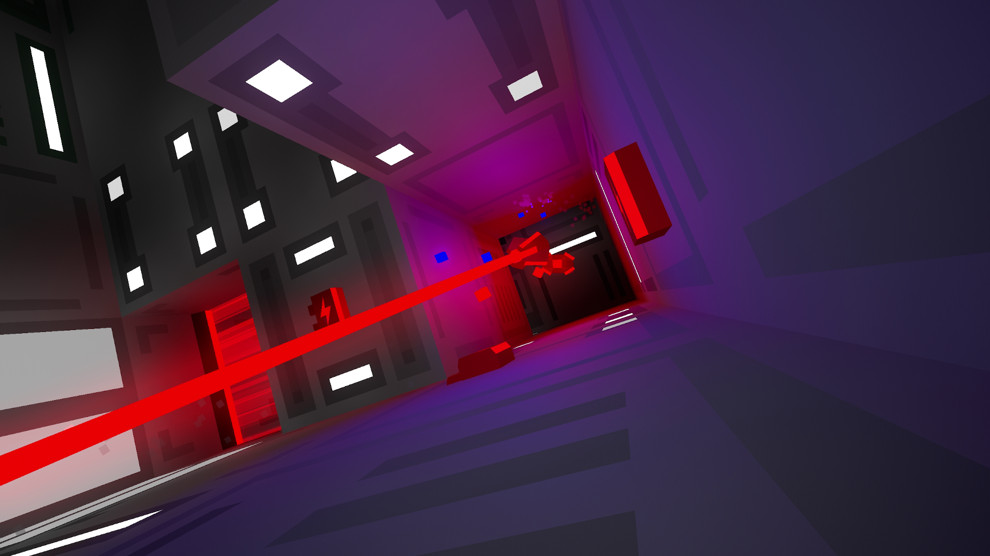 This update adds two new ship module power-ups. The first one is an emergency repair module that repairs the ship once on level start when badly damaged, the other is a rail gun:
When enemies are destroyed, so called kill markers (red crosses) are left in their place. The idea is that it helps player recognize already visited areas. I'm not sure how well this works or if it's really necessary. Please let me know what you think.
Enemy behavior has been tweaked again. Mines no longer require contact or damage to trigger. Instead, they trigger after long enough line of sight to player. This makes them considerable more dangerous. Laser beam wielding sentries now activate their shield when they lose line of sight to player so the player has to stay visible to be able to damage them.
Now that Godot Engine 3.3 stable is available, I have updated the web version to take advantage of some of its new features. The game now uses threaded audio which fixes delayed and stuttering audio in previous versions but requires browser support. Currently it should work in recent Chrome, Firefox and Edge browsers. Unfortunately, Safari does not support required features.
Here are the changes since version 0.0.9:
Fixed a crash when picking up jammer module power-up.
Trigger mines based on line-of-sight alone.
Changed default gamepad movement modifier to L1 button.
Use threaded audio in the web version to fix audio latency and jitter.
Fixed too dark HUD colors with GLES2 renderer (again).
Added kill markers (red crosses) indicating positions of already destroyed drones.
Made explosion fragments disappear much faster.
Added enemy communication sounds.
Added icon file in Windows and Linux packages.
Restructured settings menu.
Added master and music volume settings.
Added custom splash screen at start-up.
Fixed laser beam occasionally flashing visible even when not equipped.
Don't activate a teleport while it overlaps the player.
Made tougher enemy types drop more score.
Only give out half the usual score when restarting a level.
Flash ship integrity value in HUD when taking damage.
Added an emergency repair ship module power-up.
Made laser sentry guns power down the beam and raise the shield when losing line of sight.
Added enemy-piercing rail gun ship module power-up.
Documented ship module power-ups in readme.txt.
Use quickly fading emissive material color for explosion fragments.
Fixed quickly repeating sound effects cutting off.
Added --disable-vsync command line argument.
See Polychoron game page for more information. Direct downloads have been updated on Itch.io. Android version update has been uploaded on Google Play and will be available shortly.
Note: The web version on GotM.io is still not updated. I will update the version on GotM.io once they add support for the new engine version. Until then, you can play the latest web version here.
Posted on 2021-04-27
Polychoron 0.0.9 alpha released
This is quite a big update. There are some pretty noticeable visual improvements like debanding in the web version, increased amount of dynamic lights and more variation in wall textures.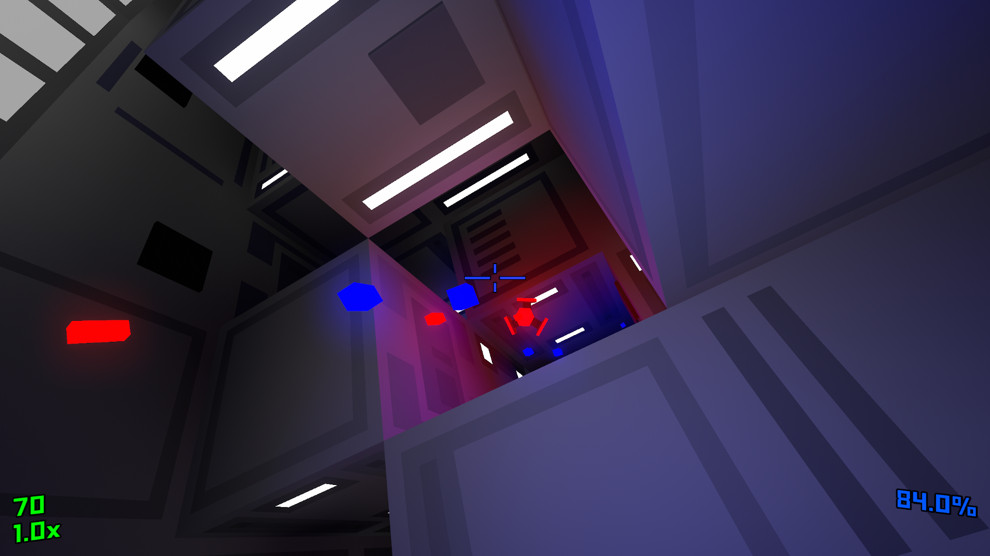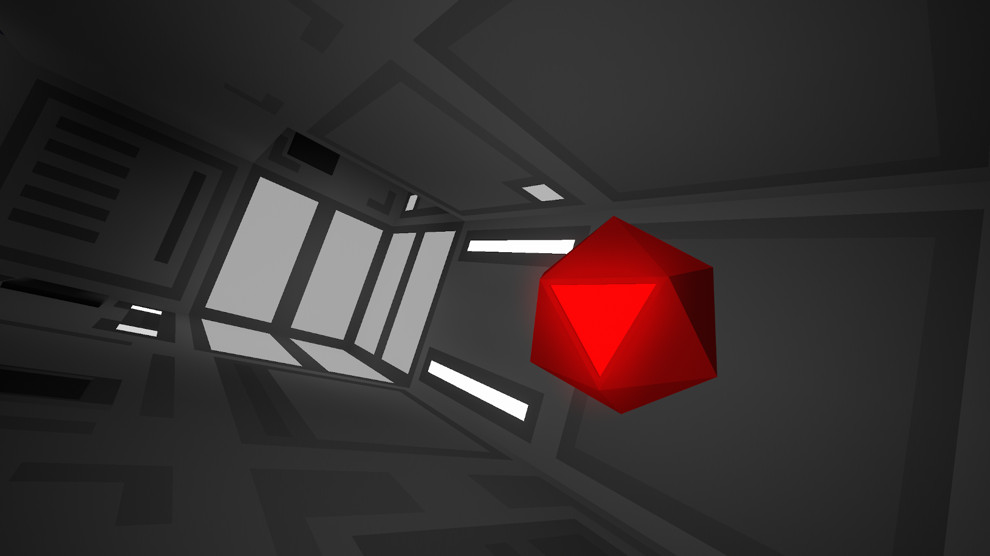 I added a couple of new weapon power-ups that give you temporary extra fire power: The first one adds one extra base weapon and the second one replaces it with a deadly laser beam.
Enemy behavior has also been tweaked. The laser wielding sentry gun is now hiding behind a shield when it's not shooting, so you'll have to wait until it fires the laser beam and deactivates the shield. Other enemies have had their timings slightly adjusted. Let me know if you feel that some enemy is too hard or easy.
Here are the changes since version 0.0.8:
Added two new unique wall texture variants to serve as landmarks in levels.
Added laser beam weapon power-up.
Added extra blaster weapon power-up.
Added a shield to laser sentry gun to make it vulnerable only when it's shooting.
Tweaked laser sentry gun shoot/aim timing to be more consistent.
Added charge sound to laser sentry gun.
Added more HUD messages to instruct new players.
Made damage glitch effect fade out slowly while not taking damage.
Minor tweaking to red flash effect to better show the direction of damage.
Limit some ship module power-ups to higher levels only.
Tweaked all enemies to turn a little faster.
Added a sound to laser beams powering up.
Made patrolling enemy type a little bit stronger.
Made all enemies remember player location longer after losing line of sight.
Tweaked camera shakes to be slightly shorter but more aggressive.
Trigger temporary glitch effects on nearby "electric" explosions.
Moved screenshot saving to a separate thread to prevent frame drops.
Added one more particle layer to explosions to make them "beefier".
Improved explosion fragment spawning pattern.
Show HUD messages when reaching major global high score ranks.
Added a tip showing required scores for a new global high scores.
Increased the maximum number of simultaneous dynamic lights.
Added a separate shoot button to touch screen controls (can be hidden in settings).
Added noise to materials when using GLES2 renderer (web) to hide the ugly banding effect.
Allow choosing the type of anti-aliasing (MSAA 4/8x, FXAA).
Disabled anti-aliasing by default.
Improved HUD scaling and positioning on different aspect ratio screens.
Redesigned HUD crosshair to indicate destructible enemy objects.
This version uses Godot Engine 3.2.4 release candidate version. This is not ideal but the stable release is likely still weeks away and I need this update out before that. I will set up a maintenance update soon after the stable engine version is available. As far as I know there are no significant open issues that affect Polychoron.
See Polychoron game page for more information. Direct downloads have been updated on Itch.io. Android version update has been uploaded on Google Play and will be available shortly.
Note: The web version is not updated because the host does not yet support the new engine version! I will update it as soon as possible.
Posted on 2021-02-02
Version numbers explained
I realized that I've been using the same version number scheme in my projects consistently for a long time, so it might be a good idea to document it somewhere. Here it is:
<major>.<minor>.<revision>
Major number is incremented once on final release and after that only in case of huge updates.
Minor number is incremented on first beta release and after that in updates with significant new content.
Revision number is incremented if none of the other numbers change. In practice this used for bug fix releases and alpha updates.
There is really no standard version number scheme out there but this kind of three or four stage semantic numbering is pretty common. It's convenient because the version numbers can be internally represented as one 32-bit integer which then allows very easy comparing of version numbers with no extra code.
I also like how, in my case, the leading zeroes indicate the development phase. For example Polychoron's current version is 0.0.8 (eighth alpha version) and Hyper Ultra Astronautics' current version is 1.1.1 (final release + one update with new content + one bug fix update). In case of Polychoron, people tend to assume that the "small" version number means it's in very early development phase but in this case it's nearly content-ready and I would call it "late alpha".
P.S. There's a big Polychoron alpha update coming soon. The current development version depends on new features in Godot Engine 3.2.4, which is currently in beta testing, so I will have to wait until a stable release of the engine is available.
Posted on 2021-01-26
Polychoron 0.0.8 alpha released
Less than 48 hours later, here's another alpha update. This is purely a bug fix release that addresses bugs making the new control remapping feature practically useless with gamepads and joysticks.
Here's what has changed since version 0.0.7:
Fixed analog axis input remapping.
Remove single control input mappings with backspace key.
Fixed enemies occasionally playing target detection sounds at level start.
See Polychoron game page for more information. Direct downloads have been updated on Itch.io. Android version update has been uploaded on Google Play and will be available shortly.
Posted on 2020-11-01
Polychoron 0.0.7 alpha released
This update to Polychoron makes a lot of changes.
Overall difficulty has been adjusted to make the game a bit more forgiving in the first levels. Many of the changes also aim to make run & gun play style more feasible. You will still likely get best scores with the careful approach and sneaking behind corners (I don't plan to change this) but now you will survive a little longer if you choose to fly straight into action.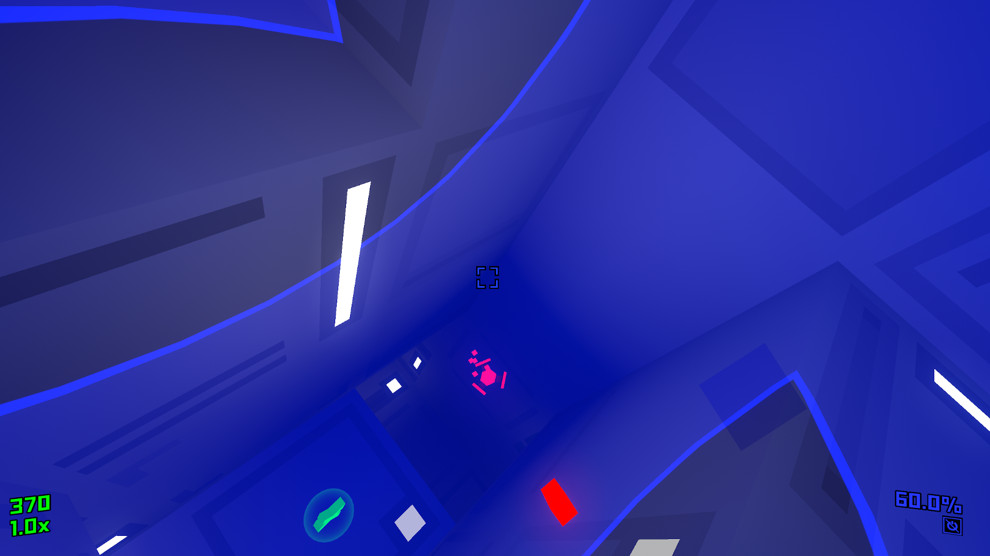 Another problem this update tries to address is people not knowing how to play. The game now shows a guide overlay to new players that explains the controls and HUD items. I have also made small visual changes here and there to make it more obvious how things work. I have intentionally been avoiding a separate tutorial that some have suggested. I believe this game is so simple that it shouldn't need a tutorial.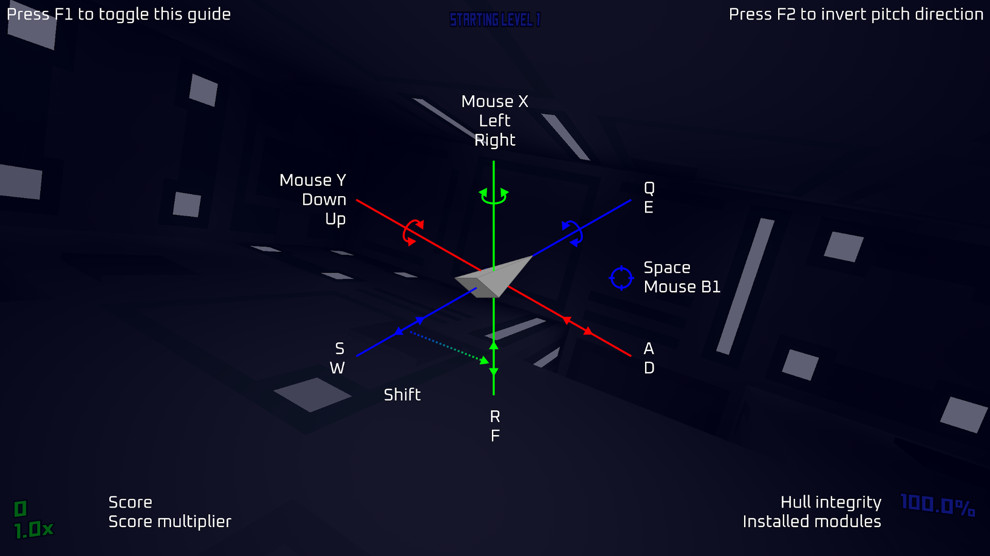 Last but not least, this update finally adds configurable controls. This is probably the single most requested feature so far.
Here's full list of changes since version 0.0.6:
Added new patrolling enemy type shooting slow projectiles.
Added two more random decorative meshes on maze walls.
Added notification sound on HUD messages.
Added ship start-up animation sequence.
Made laser beams cause the same amount of damage over time independent of frame rate.
Improved particles emission at laser beam contacts.
Limited sentry gun field of view to 180 degrees while looking for targets.
Sentry guns looking for target turn to direction of damage if shot.
Made sentry guns a bit easier to destroy.
Mines turn towards player and blink when triggered.
"Fixed" weird white pixels wandering on screen at level start on some PCs.
Rotate projectiles as they move.
Added slightly different wall colors in parts of the maze to ease navigation.
Added varying shininess to wall textures.
Fixed spark particles not fading out smoothly.
Emit colored spark particles on projectile hits.
Flash laser screen white and play a sound when its power box is damaged.
Flash all power boxes of a laser screen white when one of them is damaged.
Place laser screen power boxes a bit closer to it.
Fixed dark blue HUD text using GLES2 renderer.
Added HUD scale adjustment in settings menu.
Hide inactive teleports completely to prevent confusion.
Changed default (not inverted) pitch control direction to match most other games.
Added control bindings menu for remapping controls.
Fixed settings not being saved if closing menu instead of leaving settings page.
Added sounds to menu interaction.
Add pitch inversion quick toggle by F2.
Added controller guide overlay (press F1 to toggle).
Show completion page with statistics on death without high score too.
Added a short fade in animation when opening menu.
Use different target detection sound pitch for different enemy types.
Keep enemy weapon damage constant between levels (does not increase anymore).
Halved initial sentry gun projectile speed.
Activate level completion teleports in the unlikely case that level contains no enemies.
Added lightning symbols to power boxes.
Apply small impulse from projectiles to hit objects, including the player.
Added jammer module power-up that disables all enemies for a while.
I'm a little worried about the amount of changes. I have tested all versions but after playing the game so much during development, I have become blind to some of the issues, especially from a new player point of view. So please let me know if you encounter bugs or weird behavior.
See Polychoron game page for more information. Direct downloads have been updated on Itch.io. Android version update has been uploaded on Google Play and will be available shortly.
Posted on 2020-10-30