Hyper Ultra Astronautics 0.0.6 alpha released
It is time for another update to Hyper Ultra Astronautics!
This release adds one more weapon and some music: Ambient background track by Marcelo Fernandez and a D&B loop at match completion by DavilOne. As usual, there is a long list of bug fixes and improvement too. The mobile controller application for Android has also been updated with About -dialog and much improved virtual joystick.
Here's the new weapon in action, shooting through asteroids and disabling any ships in it's path: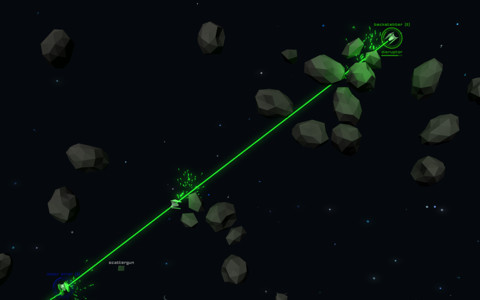 Here's full list of changes since 0.0.5 alpha:
Increased EMP light flash intensity and range.
Added shooting with gamepad right stick button too.
Added dynamic lights to plasma burst explosions.
Transfer heat from warhead (missiles) explosions to nearby ships.
Ship explosion disrupts other nearby ships for a while.
Fixed warhead explosion sound never getting played.
Added ambient sound loop played in the background.
Added match completion music.
Save screenshots with ENTER key during gameplay too.
Slow down sound effects as time slows down.
Keep controllers enabled after match completion.
Fixed only some parts of HUD blinking during disruption.
A new weapon: Disruptor.
Fixed missiles turning very slowly if target is behind them.
Removed "slide prevention" controller option.
Fade out thruster sounds and lights smoothly.
You can leave feedback in Itch.io community, or contact me here directly.
Check out the game page for more information or jump directly to Itch.io page for downloads.
Posted on 2016-11-24